PSYCHO-HISTORY-TELLING



The Dead are Always High

Is a collective project between Brussels based artists Margaux Schwarz (France) and Brendan Michal Heshka (Canada). Both artists work with conversational forms in their individual practices and here come together with an artistic research based on staging conversations with the spirits of deceased artists and historical figures through Schwarz' uncanny natural ability as a psychic medium, an exceptional gift that runs through the feminine line of her family. Schwarz receives images, voices and speech from another reality and together the duo develops a methodology to research selected figures and ritualize a call to them, with their meetings effectively taking the format of an impossible interview. The séances are staged in private settings and the results are revisited and documented through the act of the careful transcription of their sound recording. Significant guests in the project include Marcel Duchamp as his feminine alter ego Rrose Sélavy, George Heard Hamilton, Gustave Courbet, Vincent van Gogh, Bas Jan Ader, psychoanalyst Jacques Lacan and most recently a failed attempt to speak with the fictional personae of Alice in Wonderland. The stories, apparitions and images of the work are given body in their developing book, The Dead Are Always High, a collection that follows and interprets the realities created by the project.


2016 - ONGOING
Portrait of Three Artists as a Young Man, photomontage, 2016

Conceptual Art Gang Jacket, 2017
The first image is dark. Dark in the sense as, I see some men, but they don't look fine. They seem to have masks. Like latex masks, like fake heads. They are all disguised, as if they are waiting to take off this anonymous mask.

(The candles crackle audibly.)

And they are going to go one by one during this night, because in a way, this is the atmosphere you are trying to get. We are going to go into an Irish salon to drink some whiskey.

And now we are entering the space, the space of the conversation for tonight. So this space is a typical, hall or lobby of a hotel, the 'salon' or the bar of the hotel. We can see chesterfields, a piano, a bar with lots of alcohol.

Let's talk about the architecture of this space.

It says last time we were talking about corridors, but here, now, at the end of the hallway is a neutral space where people can wait, like a lobby of a hotel. So with this bar, we are talking about a kind of 'no- space' for you, and for the person who is going to come speak with you. It's like the space for an interview, and its very different if you do the interview in the bedroom or in someone's apartment or if you do it in the neutral space. So this is the second door.

The hallway 'neutral space' is periphific, it runs around, and within that you have a larger space. (Fetching paper to draw. Sound of pencil making circles)

The hallways themselves are not closed. It's like how you'd imagine seeing a Greek temple, with its arches and columns. And then beyond this temple like structure, there are doors. Then deeper, there is the beyond and through of these doors where we find the large spaces in the center of this hotel-like architecture. These are the real spaces, and are closed. So even though we remain in this 'hotel' this residency type space, these rooms are all different because everyone has a different type of hotel.

Endless doors. When you open one there is always another that is closed.

All these guys are floating around. Around us here. I see that it's like we are inside a maquette. Because of course the guy you are about to talk to can move all over the place. But you can't. So it says the session is open annnd-

Who do you want to have a glass of whiskey with?

Hmmm. Excellent.

I was thinking of Rrose Sélavy. The Pseudonym of Marcel Duchamp, the artist dressed and signing his works as a woman.

(Time passes. A nice pause as the figure enters)

Of course ummm- And I think it's really now Marcel Duchamp who says:

" Of course you say that, so now in her (Margaux's) imagination, in her way of seeing me, I have to be disguised and I'm an old man, so now I'm an old man with a weird outfit in this hotel. But I play the game." "And I'll play the game because I think that to begin its like great to have my funny side." "So you see me with my hat and my large scarf, and as old as I am, I almost look like a witch, so we're even.

Is she calling us witches?

Yes. But it's- he really has this man's voice. With this weird almost like old-woman outfit. So this is an old woman with a man's voice, and now drinking whiskey so he has, or she has, a skirt but when he sits its really manly with legs spread solidly wide open and a rugged hunch. with his whiskey -

"So in a way it is an honest way to begin with me Brendan, because you are here, and Margaux is there too, so I can like combine you two." "So we are in an interview now, what do you want to ask?"

(I'm nervous)

What I have in mind, ummm. And I guess we can share a drink, so please lets... I'm curious about what seems to me to be your fascination with women in your work, and why also this character of the women pseudonym that you create.

Ok, is that the question?

Yes.

So, we are talking about Rrose Sélavy then.

Yes.

He speaks in French. He says. At that time:

" Parce que on n'est tout ou rien. Parce que on n'est tout et rien. Parce que on n'est rien et tout"

Because we are all or nothing, because we are all and nothing, because we are nothing and all.


Illustrations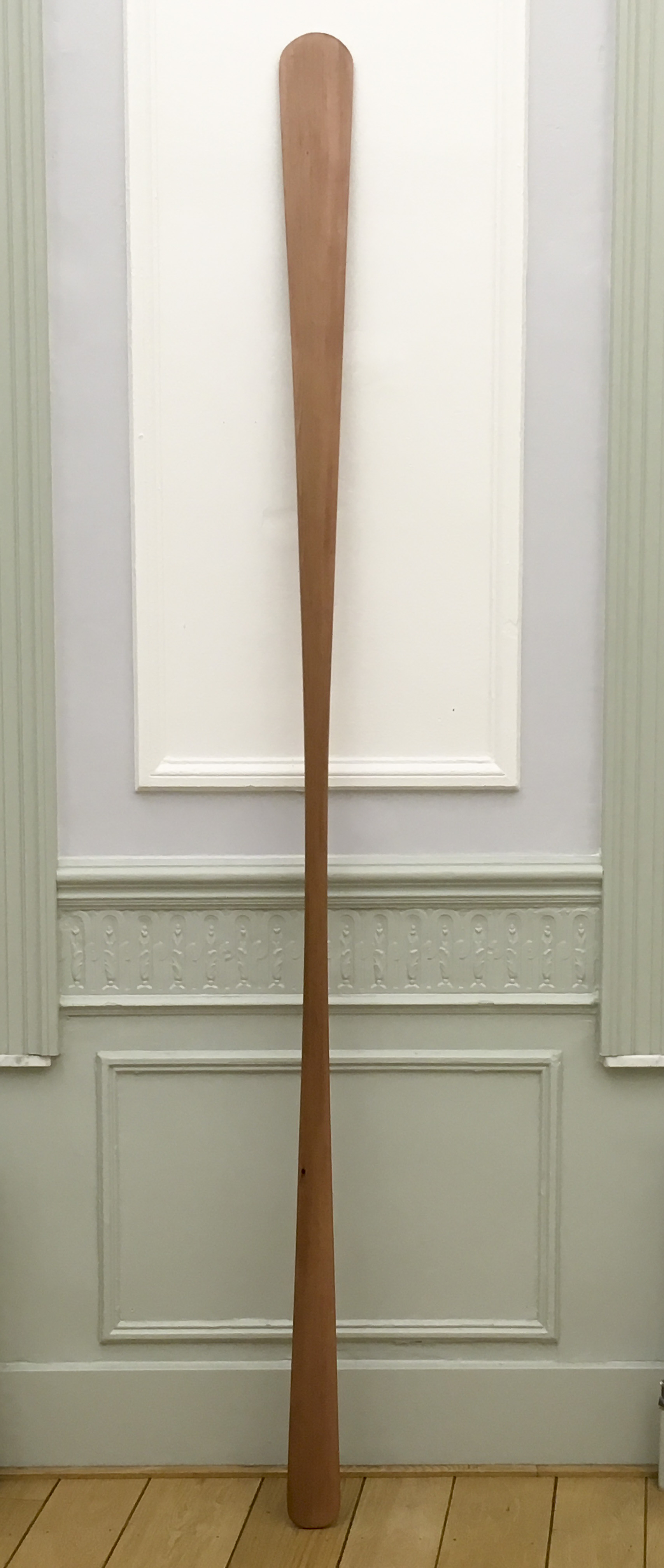 sequences are repeated, though irregularly distributed in space and time.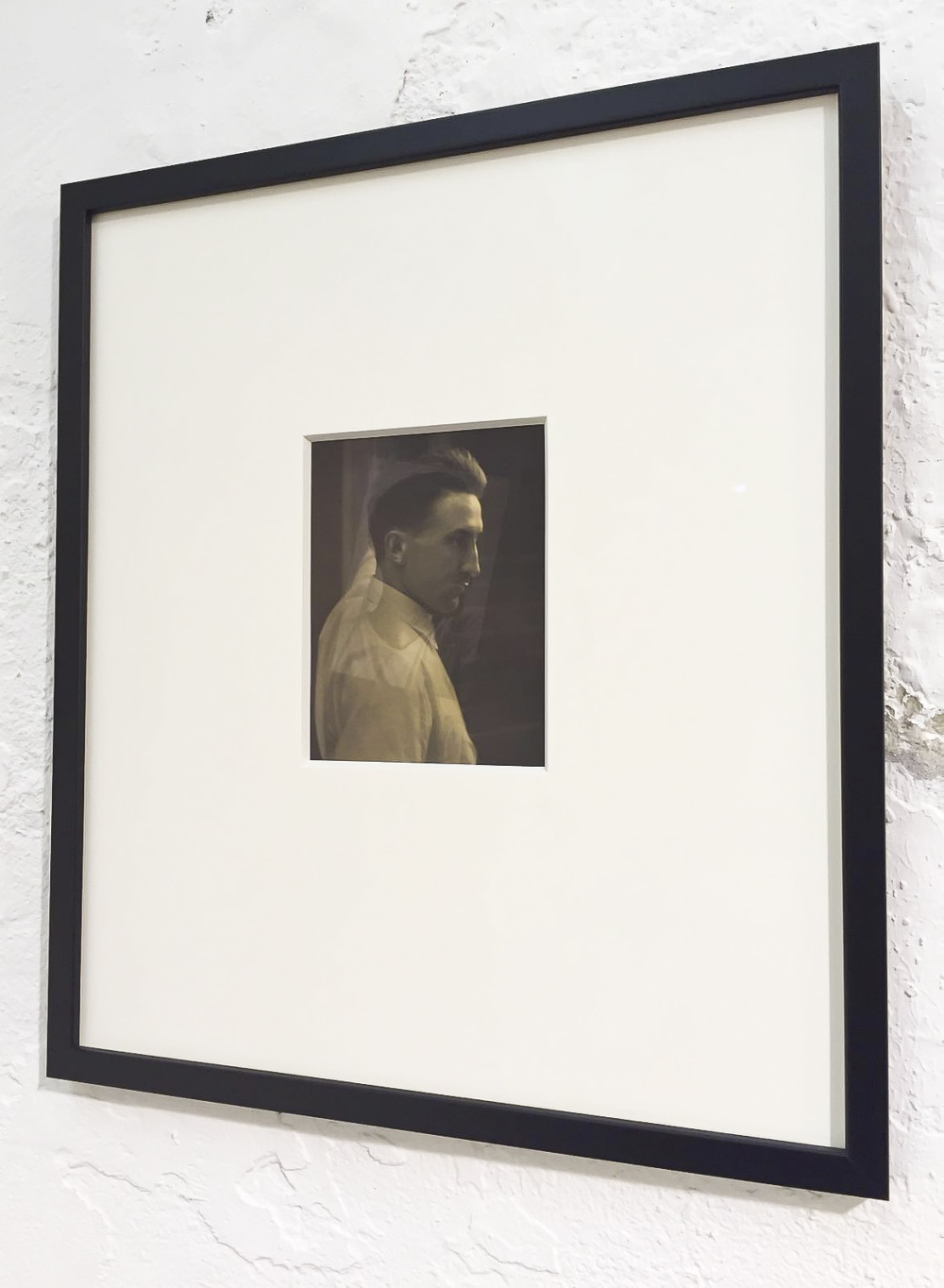 Found Photo of the Artist, 1917,
2017
The photograph is created in the same process of laying the image of the artist over a historical figure from his research, this time its the figure of German Expressionist painter Ernst Ludwig Kirchner producing uncanny results. The Image takes on the appearnce and story of a found photograph bearing the likeness of Heshka practicing one hundred years earlier and inserted into the context of art history. The photograph is framed in a hand painted treated frame. Exhibited at the Art Gallery of Alberta.